l i l i e s o n m a r s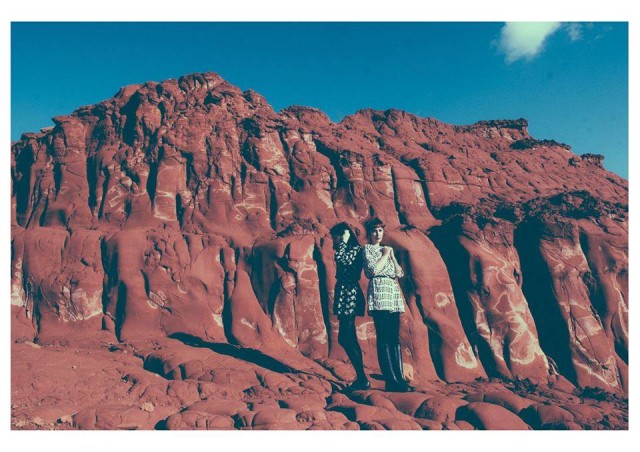 «Matter – it's waves and radiation create sounds that enthrall. Inspired by this we play music looking up.» Lilies on Mars is an alien feminine pop duo broadcasting their otherworldly music from another planet.
Born and raised in Sardinia, a magical island in the middle of the Mediterranean Sea, a place that recalls mystical legends and the strength of a population that has fought throughout history to keep traditions alive and never be fully conquered, Lisa Masia and Marina Cristofalo moved to London thirteen years ago.
Some time later Lilies on Mars emerged, the result of many long nights spent listening to music and jamming with every imaginable instrument at their home studio in Hackney – from guitars to vintage organs, synthesizers, effects and drum machines. The contrast of living between these two places has had a profound effect on Lilies on Mars' music.
---
All songs on 'ΔGO' were written from edited improvisations and immediately recorded, whilst post-production is also a key element in the whole creative process. Retro-futurist, psychedelic and cosmic pop elements are accentuated on this record. At times uplifting, at times drone and Kraut-like. They are strongly influenced by primitive electronic experimentalists and pioneers such as Delia Derbyshire and Daphne Oram of The BBC Radiophonic Workshop.
The title 'ΔGO' symbolises the retro-futurist concept: without context the word becomes abstract and helps to weave together the past and future (AGO also means needle in Italian). It can be read as AGO as used in story telling of times 'long ago' or as A GO, as if 'giving a go' at something new in the future. Equally, the lines of Lisa and Marina's distorted silhouettes on both album cover artwork and 'Dancing Star' video, inspired by Rutt-Etra-Izer, provides a visual representation of it.
---
BUY & DOWNLOAD ON BANDCAMP | SPOTIFY | FACEBOOK | INSTAGRAM
---
«Lilies on Mars remind us of the first time we heard 'Book Lovers' or Stereolab's 'Jenny Ondioline'… it's rarely been off the stereo since.» Drowned in Sound
«Traveling to the places where memory and the future meet»
Impose Magazine
«Lilies on Mars music is a beautiful work of art…»
Earmilk Magazine
«Love at first sight…»
Rockit
«Hushed refrain gives such depth and rarity to this wonderful record.»
Nugazer
---