h u m a n c o l o n i e s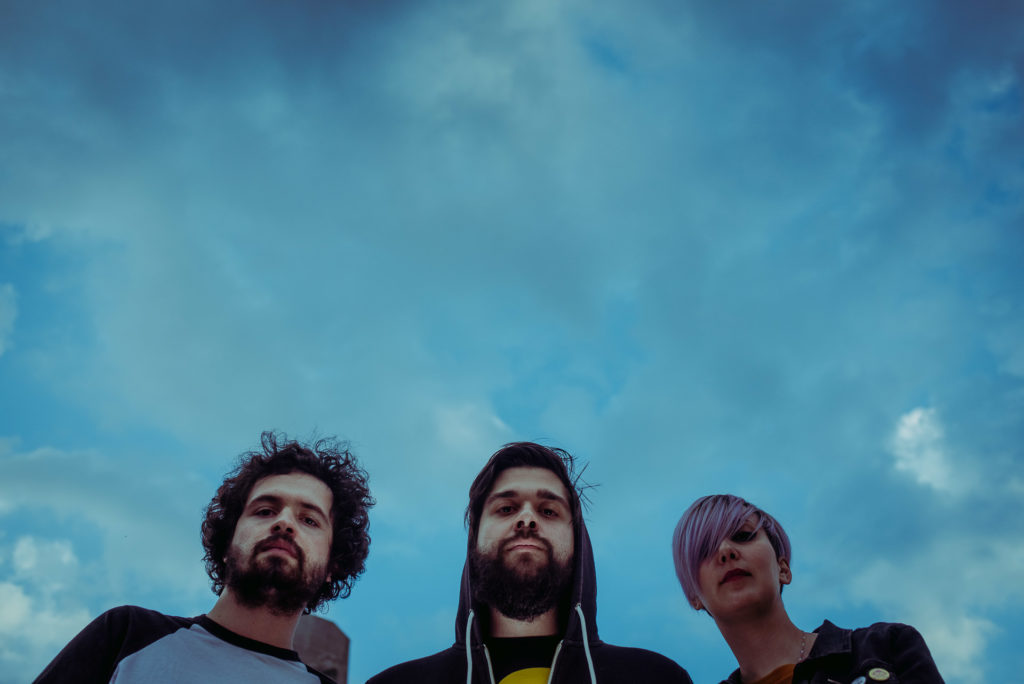 «Such beauty that for a minute
death and ambition, even love,
doesn't enter into this.»

– Raymond Carver, Happiness
Formed in 2013 between Florence and Bologna by Giuseppe Mazzoni and Sara Telesca, Human Colonies are a shoegaze/noisepop band now based among the mountains of Dosso del Liri [North of Italy]

Since the very beginning they played with distorted/shoegazey sounds and post-punkesque lyrics, resulting in a s/t short demo [2013] and a following self-produced debut EP named 'Calvary' [2015].
After performing several live gigs throughout Italy, they started having rehearsals again, until a bunch of new songs were ready enough to be recorded. They opted for the cult VDSS Recording Studio run by noise-pop maven Filippo Strang who supervised the whole recording process and worked hard on the mixes to achieve a pure, deep lo-fi sound.
---
That's how Big Domino Vortex arose. It's a journey back to 90s indie dirty sounds filled with drowned lyrics about a surreal and metropolitan world. Geometrical bass lines drift along fuzzy guitars and feedbacks, bumping into melody-laden ethereal vocals [Big Domino Vortex, Sirio, Mondrian, Kleio] while a rather post-rock cosmic approach shapes the instrumental Vesuvius and the charming loudness of the final track Psychowash.
---
Their first full-lenght album Midnight Screamer shows off since the very beginning how to perfectly balance some shiny catchy melodies with a rather coarse, tough background. The typical shoegaze sound gives way to detailed explorations, powerful rhythms, analog samples so that's a fine work of art where your attention gets constantly challenged.
Kerosene, Jet, Groovy Boy are definitely going to blow up your mind! Real 90s fans will be captured by the overall atmosphere reminding of Dinosaur Jr. And You Will Know Us By the Trail of Dead, Rodan, Sunny Day Real Estate, Swervedriver and more…Until the final long track Hummingbird will cradle you from the most screaming storm to the quietest goodnight calm.
Cover art drawn by the amazing artist Travis Millard – METZ, Dinosaur Jr.!
---
BUY & DOWNLOAD ON BANDCAMP | FACEBOOK | SPOTIFY
---
«Un affresco convincente in salsa 90s, figlio di una striscia temporale asimmetrica ed assorbita da suoni distorti che qui sanno ben districarsi tra geometrie vagamente pop utili a stemperare atmosfere grumose e tendenti al grigio.»
SentireAscoltare
«Dove prima i contorni non erano definiti a dovere, oggi si ha una linea curata ed evidente, come nei migliori manga d'altronde.»
Rockit
«"Psychowash", una chiusura che ci ricorda come tutto sia debitore di tutto. Come, ad esempio, i Novanta dei Settanta. E se la qualità è questa, va più che bene così. Bravi.»
Rockol
«Un lavoro coraggioso e intenso, raccomandato senza riserve (soprattutto) agli appassionati dello shoegaze.»
Distorsioni
«Sei canzoni che sono in bilico perennemente con la caduta e la rinascita, la quiete e la tempesta, mescolando un grunge primitivo con la
post new wave.»
Indiepercui
«7/10. Tutto come se Kevin Shields fosse in studio con la band. Si chiude in una pioggia di feedback, a rinnovare quell'interesse per gli anni 90 che non si sopisce, neppure fra i giovanissimi.»
Ondarock