• • Band to watch in 2016 according to Lauren Laverne, Steve Lamacq and THUMP. • •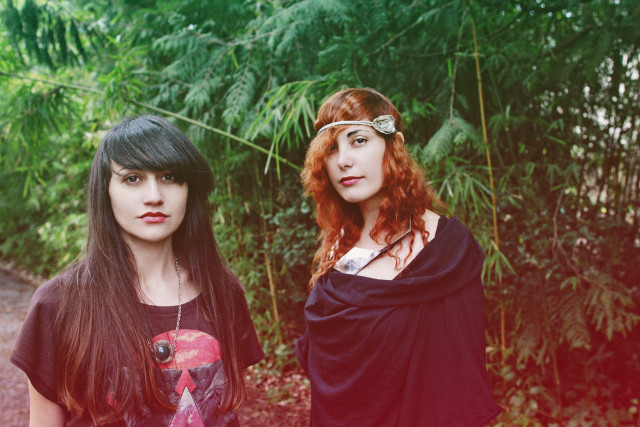 lilies on mars is the perfect cosmic jam. [THUMP]
New album  'ΔGO'  to be released & presented live in-store at
Rough Trade East London • 26.02.2016

---
DISCOVERING LILIES ON MARS
«Matter – it's waves and radiation create sounds that enthrall. Inspired by this we play music looking up.»
Lilies on Mars is an alien feminine pop duo broadcasting their otherworldly music from another planet.
No time, no space, no atmosphere.
It's sensual. It's trippy. It's twisty.
It's kraut. It's psych. It's dreamy.
Nothing similar ever heard on Earth.
Are you ready for a cosmic jump?
Destination: Mars.
BIOGRAPHY
Born and raised in Sardinia, a magical island in the middle of the Mediterranean Sea, a
place that recalls mystical legends and the strength of a population that has fought
throughout history to keep traditions alive and never be fully conquered, Lisa and Marina
moved to London thirteen years ago.
Some time later Lilies on Mars emerged, the result of many long nights spent listening to
music and jamming with every imaginable instrument at their home studio in Hackney –
from guitars to vintage organs, synthesizers, effects and drum machines. The contrast of
living between these two places has had a profound effect on Lilies on Mars' music.
It became a way to navigate their experience, gently incorporating all the information that
inspired them, becoming notes and melodies but more precisely a sound. Delicate, surreal
and sometimes disturbing, like a lily growing on a red planet. This is the imagery within
which they are suspended, where time does not exist. Collaborations with Italian pop
experimentalist Franco Battiato also dramatically influenced and inspired the project in its
early stages.
Their brand new album 'ΔGO' is to be released on 26th February 2016
by the Italian label Lady Sometimes Records, together with a live in store
at Rough Trade East London.
ΔGO
Lisa and Marina began writing 'ΔGO' immediately after returning from an extensive tour
throughout Europe and America. Filled with inspiration, excitement and with overwhelming
changes in their lives post tour, they searched for shelter at Lisa's beach house in
Sardinia. Here they set up a studio and found the perfect space and freedom needed to
create and experiment with new sounds.
All songs on 'ΔGO' were written from edited improvisations and immediately recorded,
whilst post-production is also a key element in the whole creative process. Retro-futurist,
psychedelic and cosmic pop elements are accentuated on this record. At times uplifting, at
times drone and Kraut-like. They are strongly influenced by primitive electronic
experimentalists and pioneers such as Delia Derbyshire and Daphne Oram of The BBC
Radiophonic Workshop.
The title 'ΔGO' symbolises the retro-futurist concept: without context the word becomes
abstract and helps to weave together the past and future (AGO also means needle in
Italian). It can be read as AGO as used in story telling of times 'long ago' or as A GO, as if
'giving a go' at something new in the future.
Equally, the lines of Lisa and Marina's distorted silhouettes on both album cover artwork
and 'Dancing Star' video, inspired by Rutt-Etra-Izer, provides a visual representation of it.
---
---
T R A C K L I S T
1. Stealing
2. Dancing Star
3. It Might Be
4. It Was Only Smoke
5. From The Earth To Above
6. Midnight Fall
7. Sympathize
8. Rachel Walks By The Sea
9. I've Got You
---
P R E S S  • R E V I E W S
«Dancing Star is a pulsing, sensual piece of ethereal synth pop with dreamy, trippy textures created with vintage analogue equipment including space echo (just like King Tubby!), ancient, dusty organs and the duo's lysergic vocal tones…» [Louder Than War]
«A stunning combination of galactic rhythms and buried lyrics, Lilies on Mars have created an album that is, quite literally, out of this world.» [GIGSoup]
«ΔGO is cosmic, crystalline, cool, cosmic (again) and sometimes just plain cryptic. Now hold on to the guide rope, 'cos ladies and gentlemen we are floating in space…» [PopMatters]
«Lilies on Mars are two very talented girls, I really love this song.» • Lauren Laverne on 'Dancing Star' [selected for 6 Music Recommends • 30/06/2015]
«Sweetly and deftly done» • Steve Lamacq on 'Stealing' [selected for 6 Music Recommends & 60 Seconds CV • 25/09/2015]
«It feels like [ΔGO is] something much more enduring, increasingly revealing itself and its intricacies with each successive listen.» [Electronic Sound]
«Cosmic. Dreamy. Visionary. Psychoactive. Mind-altering.» [Fame Magazine.co.uk]
---
L I V E • A R C H I V E
n e x t • g i g s
26/02 • Rough Trade East London – RELEASE PARTY! [London, UK]
p a s t • g i g s
[ 2 0 1 5 ]
30/11 • Officine Culturali Ergot [Lecce]
29/11 • Pop Up The Sunday [Bari]
28/11 • The Yellow [Roma]
27/11 • Astro Club [Fontanafredda]
14/11 • Retronouveau [Messina]
13/11 • Opera Commons [Aci Bonaccorsi]
12/11 • Balazzi [Palermo]
07/11 • Invidia Lounge [Pompei]
01/11 • Nobel '26 [Nuoro]
31/10 • Tibula [S. Teresa di Gallura]
30/10 • Fabrik [Cagliari]
23/10 • Tribeca Factory [Prato]
22/10 • Garage1517 [Genova]
06/10 • Electrowerkz [London]
05/10 • Rough Trade [Nottingham]
03/10 • Centro Culturale Caos [Terni]
25/09 • Monk [Roma]
24/09 • Arci Ohibò [Milano]
14/08 • Hana-Bi [Ravenna]
13/08 • Psychobby Fest [Osimo]
17/07 • Aggabachela [Sassari]
28/06 • Piccolo Auditorium [Cagliari]
26/06 • The Lexington/White Heat [London]
01/05 • Splashdown Fest [Pesaro]
30/04 • Fanfulla 5/a [Roma]
29/04 • Mikasa [Bologna]
25/04 • Ostello Tasso [Firenze]
24/04 • Tesla [Montelupo Fiorentino]
---
G A L L E R Y